Successful entrepreneurship isn't merely about ideas or innovations; it's about the resilience to weather storms and transform challenges into opportunities. In the following article, we highlight the journeys of female entrepreneurs who embody this spirit. First, we present the story of Susan Clayton, an entrepreneur who overcame crisis and scaled operations.
Susan Clayton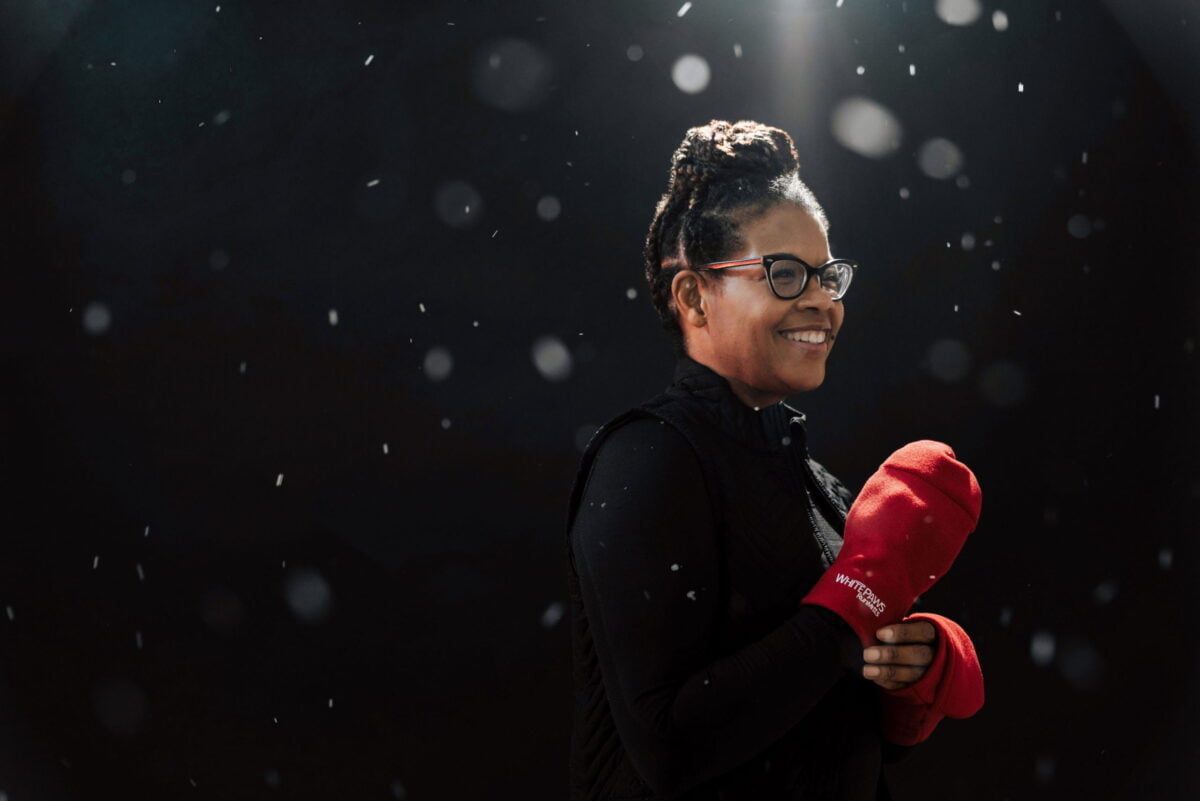 Susan Clayton is the founder of WhitePaws RunMitts, an outdoor gear and apparel company specializing in patented, convertible, thumbless mittens with inside pockets for hand warmers. Her inspiration came from running in harsh winters with her group, Back on My Feet, which hosts morning runs with people experiencing homelessness across Baltimore. After seeing a friend run with socks on their hands, she decided to create something better.
Crisis: Following the tragic murder of George Floyd, attention shifted to Black-owned businesses, leading to unprecedented demand for Susan's company, especially after outdoor retailer REI expressed interest in selling her product at select stores. This situation created an immediate need for her to scale her business operations quickly.
Response: Susan seized the opportunity to expand her business by participating in the entrepreneurship training and networking program, Empower by GoDaddy. Through the program, she was able to leverage technology to manage and grow her business, including the development of her small business website and e-commerce platform. She was also featured in the GoDaddy docuseries Made in America. However, the challenge of financing for manufacturing remained. Susan entered Baltimore Homecoming's Crab Tank pitch competition and won the $25,000 prize. Her advice to others is to remain authentic and transparent, even in times of crisis.
You can also find Susan on Facebook, Instagram, and Twitter.
Sarah Hum
Sarah Hum is the co-founder of Canny, a company committed to helping software startups create new products. With a background in graphic design and experience working as a product designer at Facebook, Sarah found her passion in supporting innovative software projects. Canny reached profitability within a year and now boasts $3M+ ARR, 600+ paying customers, 19 remote workers, and no external funding.
Crisis: The COVID-19 pandemic posed a significant challenge for Sarah's company as cancellations from clients started pouring in during March 2020, particularly from customers in industries heavily impacted by the virus.
Response: Sarah highlighted the importance of maintaining profitability and having a significant runway in times of crisis. Even in the face of adversity, she focused on what her company could control – their cash balance. Despite experiencing the worst churn in April 2020, the company bounced back with some of its best months of growth later in the year. Sarah's lesson from this crisis is to delegate more and build a trusted team to focus on high-level initiatives.
Find Sarah on LinkedIn and Twitter.
Anastasia Veremyova
Anastasia Veremyova, CEO and founder of Trust PR Production, launched her global communications agency in 2020. Specializing in PR and digital marketing for global VC funds and tech companies, Veremyova and her team are dedicated to building trustworthy relationships between brands and the media.
Crisis: Experiencing an explosive growth phase in early 2023, Trust PR Production faced cash flow challenges. The sudden increase in team size and revenue meant that the business was left with limited financial reserves, a common occurrence in rapidly growing businesses.
Response: Veremyova decided against cutting costs and downsizing the team. Instead, she prioritized the well-being of her team, maintained transparency, and celebrated small daily victories to keep morale high. She advised, "People first… The well-being of the team is always, absolutely always a priority. Honesty and transparency are fundamentally important here." Veremyova's strategy paid off, allowing Trust PR Production not only to maintain its current performance but also to continue growing amidst the crisis.
You can connect with Anastasia Veremyova on LinkedIn.
Ashley Powdar
Ashley Powdar is the founder of Ruby Sampson, a sustainable Guyanese fashion brand known for its storytelling prints and signature silk-lined head wraps. As a devoted traveler, Ashley has lived in multiple countries, and her extensive travel experiences are reflected in her designs.
Crisis: Just three weeks before the COVID-19 pandemic shut down Washington DC, Powdar received over 20 units of dresses made in the wrong fabric. This mistake could have resulted in substantial financial loss for her business.
Response: Powdar put it, "The mistakes create the opportunities!" She saw the growing need for face masks amid the pandemic and turned her initial error into an opportunity. Powdar repurposed the unusable cotton fabric into face masks and was able to exceed her sales goals. Her advice to fellow entrepreneurs is to "use every mistake and error to create something new."
Stefania Mallett
Stefania Mallett is the CEO and founder of ezCater, a company providing corporate food solutions. With over 35 years of experience in building and growing technology-enabled companies, Stefania is no stranger to navigating through crises.
Crisis: In 2020, ezCater saw its revenues drop 85% in a week as companies directed employees to work from home due to the COVID-19 pandemic. With most of the workforce at home, the demand for corporate food solutions decreased dramatically, making ezCater seemingly irrelevant.
Response: According to Stefania, reacting to a crisis often takes more time than anticipated and requires discipline. "Most often, you can and should freeze: stop, collect data, and think." Stefania says. She opted for strategic layoffs after careful consideration and data collection. Rather than pivoting to a different business model, ezCater focused on the 15% of its revenue that did not disappear: feeding frontline workers. This strategy led to a successful recovery, returning to its pre-pandemic size just a year after the crisis, and achieving an 87% growth in bookings over the next year.
LinkedIn: Stefania Mallett
Rebecca Contreras
Rebecca Contreras is an award-winning entrepreneur, best-selling author, and President and CEO of AvantGarde LLC (AG), a consulting firm she co-founded in 2011. With over 110 employees spread across several states, AG offers integrated human capital expertise in human resources operations, organizational solutions, and strategy.
Crisis: When the COVID-19 pandemic hit, AG's team-centric workforce found themselves working remotely and feeling isolated. With the closing of offices and schools, many employees found it hard to maintain work-life balance during traditional work hours.
Response: Contreras doubled down on her strategy to "lead with love," which involved articulating values, listening to needs, investing in individuals, supporting their goals, and celebrating achievements. As a result, the company culture received positive feedback from employees, and the firm continued to grow its margins over the years.
Non-profit foundation: LaunchPad
Book: Lost Girl
Ania Halama
Ania Halama is the owner of Xpansion Alchemy, an alternative learning school focusing on personal development, health, relationships, spirituality, and business. After a series of personal health challenges, Ania left her corporate job and ventured into entrepreneurship. She used her background in graphic design and marketing to start her own design agency and later transitioned into coaching.
Crisis: Her journey was not without trials. Ania experienced a severe setback when her coaching business fell victim to a hacking incident. She lost her website, 300 pieces of video content, and a 30,000-strong email subscriber base. This crisis led to a period of intense self-reflection and questioning of her life's purpose and direction.
Response: Ania turned her crisis into an opportunity. During a profound meditation session, she conceived the concept of Xpansion Alchemy, an embodiment of collaboration, not competition. The school serves as a sanctuary where individuals and corporations can access tools like meditation, breathwork, and EFT tapping to foster holistic well-being. Ania emphasizes the importance of never losing hope or giving up, even during challenging times. She believes that every crisis can be a hidden blessing, leading to greater opportunities and growth.
You can learn more about Ania and her work through the following links:
Personal: Facebook / Instagram / LinkedIn / Website
Xpansion Alchemy: Facebook / Instagram / LinkedIn / TikTok / Website
Each of the women featured in this article showcases an inspiring journey of resilience and ingenuity in the face of adversity. From Ania Halama's story of personal transformation to the others' demonstrations of tenacity, these entrepreneurs exemplify that with the right mindset, no crisis is too great to overcome. We hope their stories will inspire and embolden aspiring entrepreneurs.